#ABC Ang Bao Campaign 2019
Posted 3 years ago
The #ABC Ang Bao Campaign 2019 runs from the 15th January 2019 onwards.
Participants stand a chance to win discount and gift vouchers when they receive a pack of limited edition Kingsforce Ang Baos. View Terms Conditions at the bottom of this page.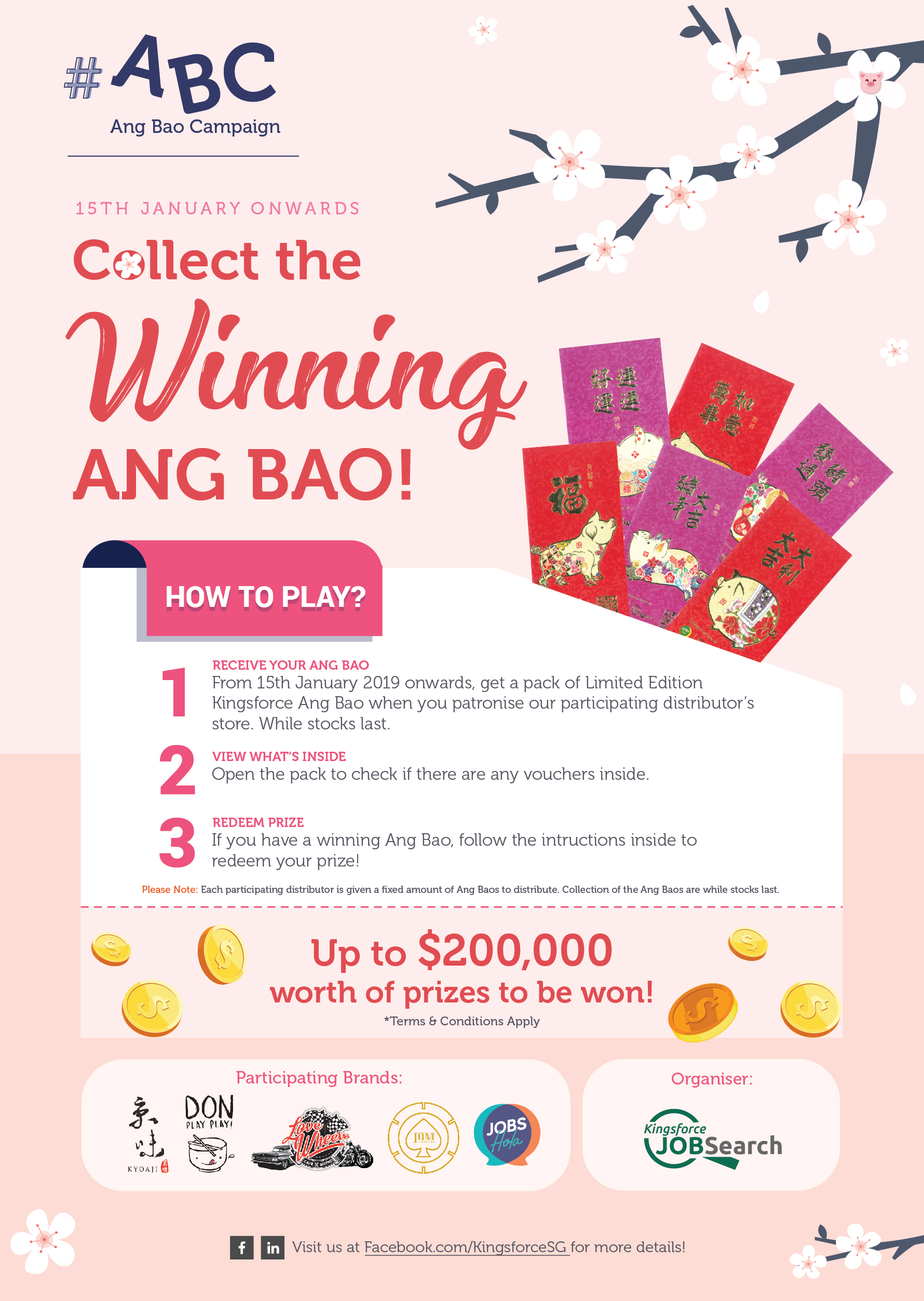 Terms & Conditions are as follows:
1. This ABC (Ang Bao Campaign) is held by Kingsforce Management Services Pte Ltd.
2. The ABC is only open to residents of Singapore.
3. Participants to the ABC will be given complimentary Ang Baos upon patronisation with selected vendors.
4. Selected Ang Baos will contain either gift vouchers or discount vouchers from our partners and it will be redeemable as per indicated on the voucher.
5. Vouchers are non-exchangeable for cash or other monetary rewards in part or in full.
6. Kingsforce Management Services Pte Ltd retains the right to reject any voucher that has been tampered with or found in any way unacceptable.
7. Kingsforce Management Services Pte Ltd will not responsible if a voucher is lost, stolen, damaged or destroyed and no replacement will be provided in these circumstances.
8. Strictly no extension of the expiry date from the date of issue will be allowed.
9. By participating in this ABC, an entrant is indicating his/her agreement to be bound by these terms and conditions.
10. Distribution date for the ABC will begin on the 15/01/2019.
11. The ABC will cease when all Ang Baos have been completely distributed.
12. Transferable clause are as stated on the vouchers and may be subjected to additional terms and conditions of individual suppliers.
13. Acceptance of the vouchers shall constitute consent on the winners' part, to allow the use of the winners' entry, names, images, video footage, voices and/or likeness by the Organiser for editorial, advertising, promotional, marketing and/or other purposes, without further compensation, in any media for an unlimited period of time, except where prohibited by law.
14. Kingsforce Management Services Pte Ltd reserves the right to replace the vouchers without prior notice.
15. Kingsforce Management Services Pte Ltd reserves the right to amend the terms and conditions without prior notice.
16. These terms and conditions and any matters relating shall be governed by and construed in accordance with Singapore law and shall be subjected to the non-exclusive jurisdiction of the courts of Singapore.